In preparation for the recording of an IFI Spotlight podcast, executive director Dave Smith asked me to do some research about the Illinois government's employee pension problem. For me, it is not a fun topic to delve into because for a dozen years now I've watched elected conservative state legislators completely ignore the seriousness of the legalized theft that has been going on in Illinois for decades as it pertains to pensions.
Yes, legalized theft. How else can you describe someone paying into a fund about $154,000 over the course of their working years and then expect $2,200,000 in pension benefits from taxpayers during their retirement years? Those are just the Teachers Retirement System numbers, as you can see the chart above from the Illinois Policy Institute.
Ever wonder why so many kids have trouble with math? From these figures, not even the math teachers seem to understand arithmetic. If they did, we would have heard from the thousands of them spread throughout the public (government-run) K-12 and college systems. Certainly with math that far off they would have organized and spoken up to warn of the coming collapse of the impossible scheme.
But nope. Nothing. Silence. Why should they mess with a good thing? Why not keep your mouth shut and profit handsomely off of the taxpayers?
Thanks to several sources, especially the Illinois Policy Institute, it is difficult to not be drowned in an ocean of terribly disturbing facts.
There are a handful of organizations that have done and continue to do great work on this issue. In the following articles I'll focus on the Illinois Policy Institute and Taxpayers United of Illinois. In this post, I have to give credit to business owner and government employee compensation expert Bill Zettler. A dozen years ago Bill wrote a letter to the editor at the Daily Herald which was titled, "Yes, Illinois needs pension reform." Here was the opening sentence:
Give 'em a million, save a billion.
From the article:
My new slogan "Give 'em a million and save a billion" comes from a simple mathematical fact. The average teacher in Illinois who retires after 34 years retires with a pension worth well in excess of a million dollars cash. So if we taxpayers just give them a check for $1 million when they retire (whatever happened to a gold watch?) we will save tens or hundreds of billions over the next 40 years.
That was 2005. As you have already seen from the IPI chart above, the numbers have skyrocketed since.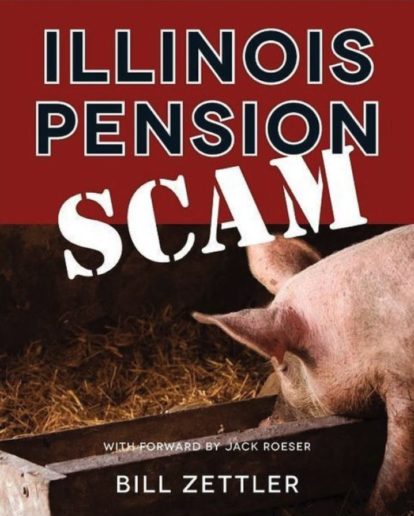 There is so much material that a book could be written on the topic. Actually, a book has been written. A few years ago, Bill Zettler penned "Illinois Pension Scam," with a forward by the late Jack Roeser. Buy a copy and read some of what your conservative legislators have been ignoring since Bill started to provide a free seminar on what is one of the biggest crisis facing our state.
Over the years Bill investigated and laid out the facts from several angles — and each article could have and should have sparked outrage on a scale large enough to begin a movement to force reform.
Why didn't it happen? There are several reasons. You can be the judge about which might be the leading factor:
State legislators deal with a lot of issues, and asking them to learn about the Illinois pension scam is too much to ask.
State legislators would rather avoid the controversy that would arise when they would confront the army of government employees who benefit from the Illinois pension scam.
In order to win public support for genuine reform would require state legislators to learn how to become public opinion leader regarding the Illinois pension scam.
Illinois legislators have their own generous pension plan, so they don't want to rock the boat and thereby risk having their own pension thrown overboard.
Bill Zettler also knew how to write an effective headlines. Here are just a handful of examples for your reading pleasure:
This first post is from 2007 — and because it's loaded with numbers I just link to the first part. Note — even back then the numbers were outrageous. Conservatives in Illinois have had plenty of time to learn about it and make the case:
Total Pension Liability for One School District: D300
Does Your Employer Contribute $69,000 a Year to Your 401k Retirement Plan?
Answer: I don't think so. And it's not because your employer is greedy but simply because it would be impossible to pay that amount and stay in business. They would be bankrupt.
This one is from 2009:
Gov. Quinn: Raise Taxes on $10/hr Workers by 41% to Pay for $10 Million Pensions
73,000 State University Employees Pay Zero for Pensions or Healthcare
Did you know that? The fact is, the count is many times that number when it comes to cushy teacher contracts.
Bill asked a lot of good questions over the years — here are three:
Should A Public Employee Have A Yearly Pension Greater Than His Career Pension Contributions?
Should Part-time Public Employees with Partial Careers get Six-figure Pensions?
Bill covered many anecdotal examples — here are three:
Work for the State 5 Years, Pay in Zero, Get $130,000 Pension
Work for Yourself 45 Years, Pay In $260,000 Get $28,000 Social Security. Anybody see a problem here?
Is $224,000 Per Year Too Much Compensation for a Drive's Ed Teacher?
How about $1,174 per day for an Art teacher or $149/hr for an English teacher?
Pension Insanity: $75,000 Salary Turns Into $155,000 Pension for One Kindergarten Teacher
I guess it's OK though; it's for the kids.
As Bill Zettler wrote in 2008, it's time to  solve the Illinois public pension problem.
Bill Zettler's archive can now be read here.
Up next: More details about the Illinois pension scam.